Accommodation at La Taillede
At La Taillede we have a range of different accommodation for anyone in search of an unforgettable rural holiday in the French Pyrenees. You can choose from 1 bedroom through to 3 bedroom apartments (gites) and even a yurt. Each one is unique and has a different feel.
We have lovingly restored the old stone buildings, creating a different character for each space. All the wood used in the renovations was felled, sawn and milled here at La Taillede.
All our Gites are fully equipped with a modern kitchen including fridge/freezer, hob and oven with microwave. All our accommodation except the yurt have high speed WiFi and a TV.
Please note; We have also added here our villa which is located in the same region, but close to the sea (near Collioure and Argeles sur Mer) rather than in the mountains. It is in a lovely quiet village and has a unique 25m pool and hot tub. This property is only 1 hours drive from La Taillede and sleeps 12 people.
Here is a summary to help you decide where to stay.
Gite Canigou is our largest Gite, covering 100m². It has 3 bedrooms, each being available in either double or twin bed configuration. The master bedroom has an ensuite bathroom and the other 2 bedrooms share a bathroom.
Gite Canigou has a large outside terrace with a private wood fired hot tub and barbeque area.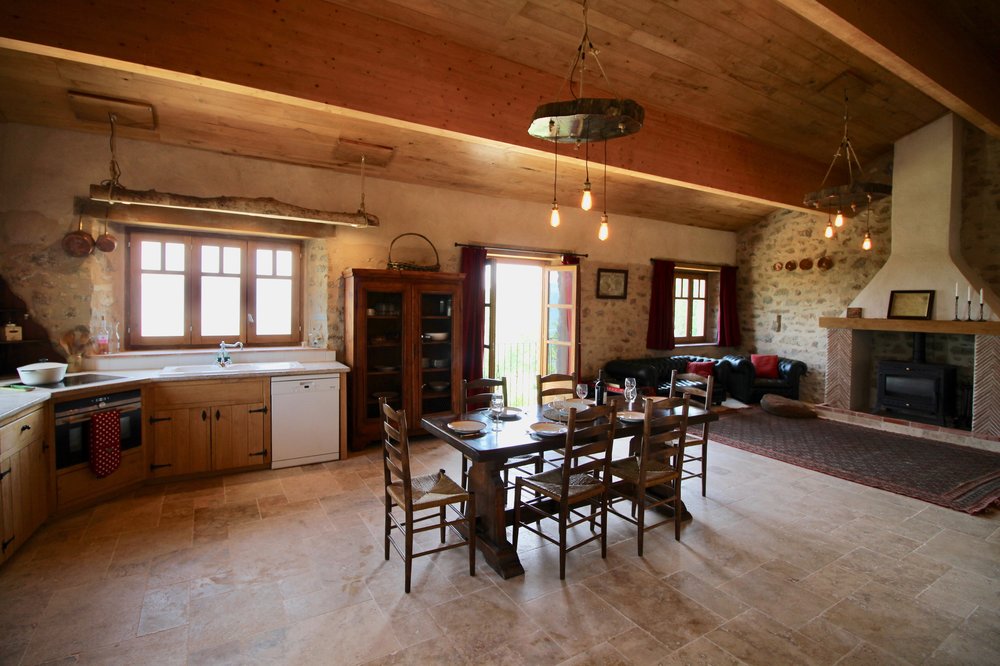 Gite Carlit is on the top floor of the building; sleeps 5 plus infant. The 85m² has 2 bedrooms, both with ensuite bathrooms. 1 room is a double and the second is a family room with double or single beds and a kids area with cot.
It has a small outside terrace with barbecue and table and chairs. Perfect for sunny breakfasts! It also has a top terrace in the forest above with private wood fired hot tub and views over the top of the mas to mountains beyond. Hammock slung between the trees in a fabulous spot with magnificent mountains views.
Gite Cerise and Gite Noisette are on the ground floor of the building. They are each 50m² apartments with ensuite bathrooms and fully equipped kitchens with wood burning stoves.
Gite Cerise and Noisette share a large South facing terrace in front of the building with a fire pit/BBQ. Perfect for couples who enjoy hiking holidays in the mountains.
See more details and availability here.
1 Bedroom & families - The Yurt
Our yurt sits on it's own platform below the main building and has fabulous mountain views all the way down the valley.
It has one king size double bed, a futon and extra mattresses are available for more kids!
The Yurt has a private summer kitchen, shower and compost toilet along with a covered area with table and chairs.
See more details and availability here.